Quick Takes time! Thank goodness it's Friday, cause I have really important (and of course really random) things to bring to your attention!
1. For the first time ever, we McSisters have published a post every day this week.  We are patting ourselves on our backs! (Except for you, Rose.  You owe us! Just kidding, we love you, you're pregnant, it's all cool 😉 )
2. In case you missed Monday's post, I'll just sum it up by telling you to check out my friend Melissa's new website for Catholic women who struggle with infertility.
3. Ok, on to the really important stuff ;). JCrew factory outlet AND Banana Republic factory outlet are having 50% off everything sales this weekend.  These are seriously good sales to be had, people! It was perfect timing for us because Dave had the day off anyway and he desperately needed new work pants.  We were able to pick up 4 nice new pairs today for $30 a pair!
4.  These earrings were also an absolute necessity.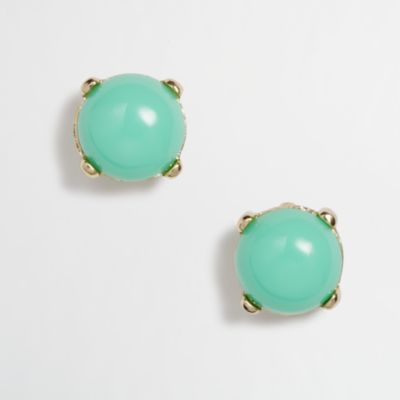 5. If you don't religiously read Betty Duffy's blog on Patheos, you really should.  This week she had a killer post about why it's rude when people ask about your family size.  Our McMother definitely raised us with a strong sense of what is right, what is wrong and what is just plain rude, so it's shocking for us when people we come in contact with think it's perfectly fine to ask point blank questions about your family planning.
6. I'm really enjoying Like Mother Like Daughter's new Saturday feature, Bits and Pieces.  Last weekend, Deirdre linked to a blog post that I really needed to read, about why we women (self, I'm looking at you!) need to get over our incessant self-criticism of our bodies and looks and just live life for crying out loud.  I think I'll go ahead and reread it right now!
7. Just remember…